Honey Peanut Chicken Satay is the perfect marinated grilled chicken for an appetizer party or family dinner- deliciously spiced and easy to make!
This post is sponsored by PB2. All opinions are my own.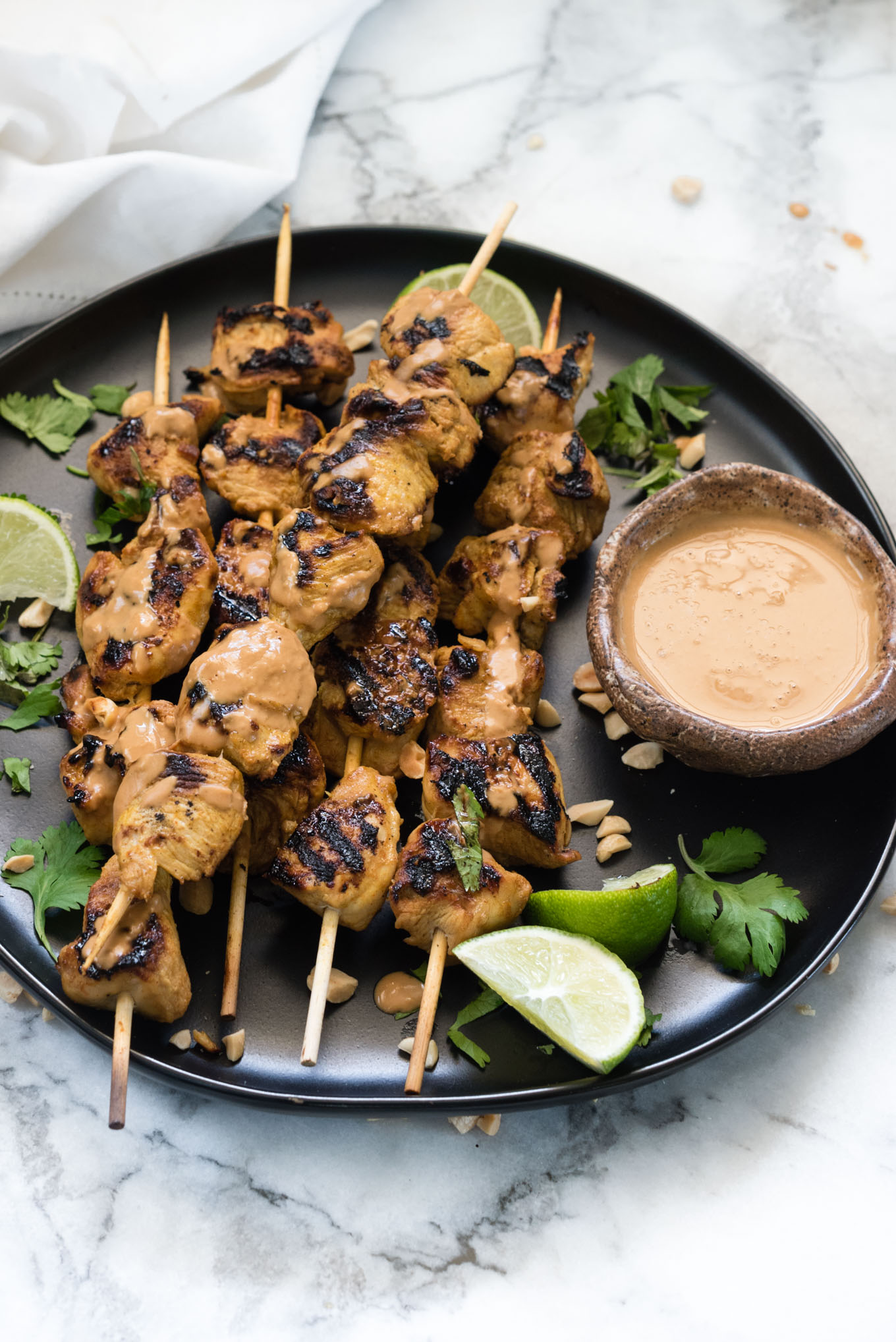 It's a new year and a good time to fill your recipe collection with all the healthy recipes. This Honey Peanut Chicken Satay is a delicious lean and high protein meal prep option that might introduce your family to new flavors.
When it comes to our diet, we all have different requirements, goals, likes and dislikes, however, setting a goal to meal plan and cook more at home is a great way to kick start 2020 off right!
Honey Peanut Chicken Satay is packed full of flavor- it's sweet, salty and zesty all in one bite! Spoiler alert- my kids loved it! Apparently eating food straight off of a stick is pretty appealing to kids.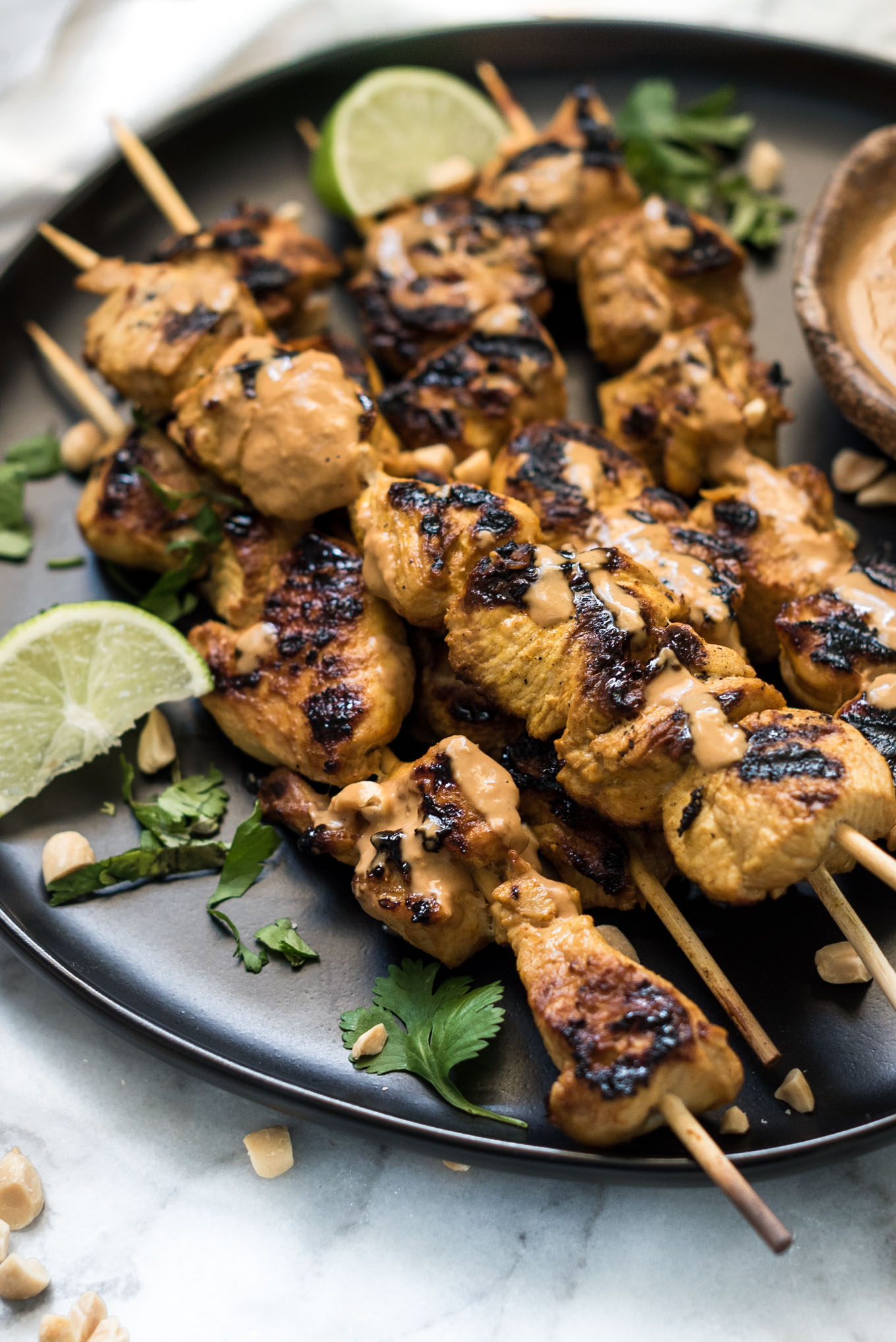 I used PB2 powdered peanut butter in the marinade, which is simply a protein-rich powder made from ground peanuts (plus a little sugar and a dash of salt for flavor)!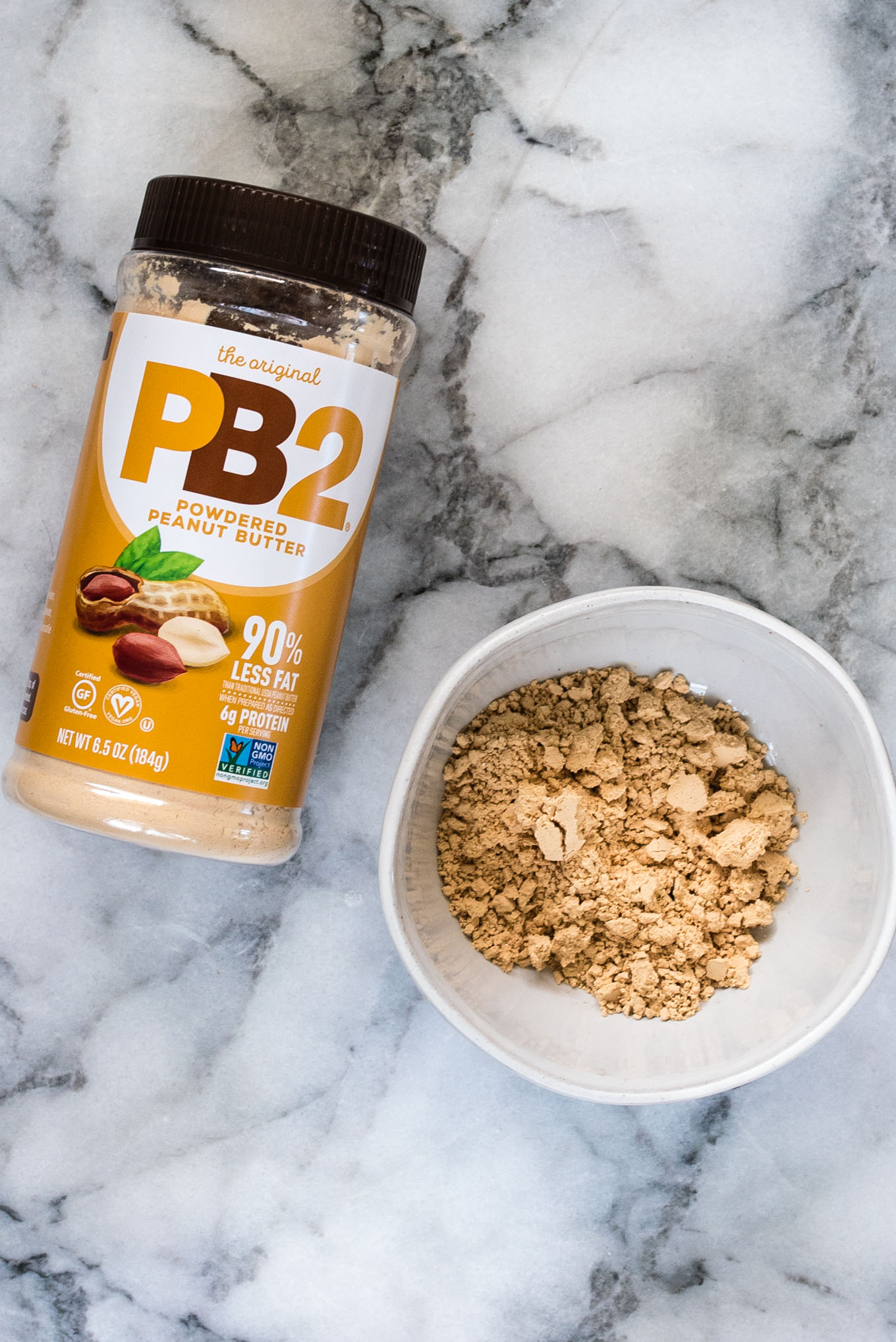 Since it is pressed into a powder, the majority of the oil is removed which makes it 90% less fat and almost 70% fewer calories than traditional peanut butter. It's a convenient way to add some depth to a marinade!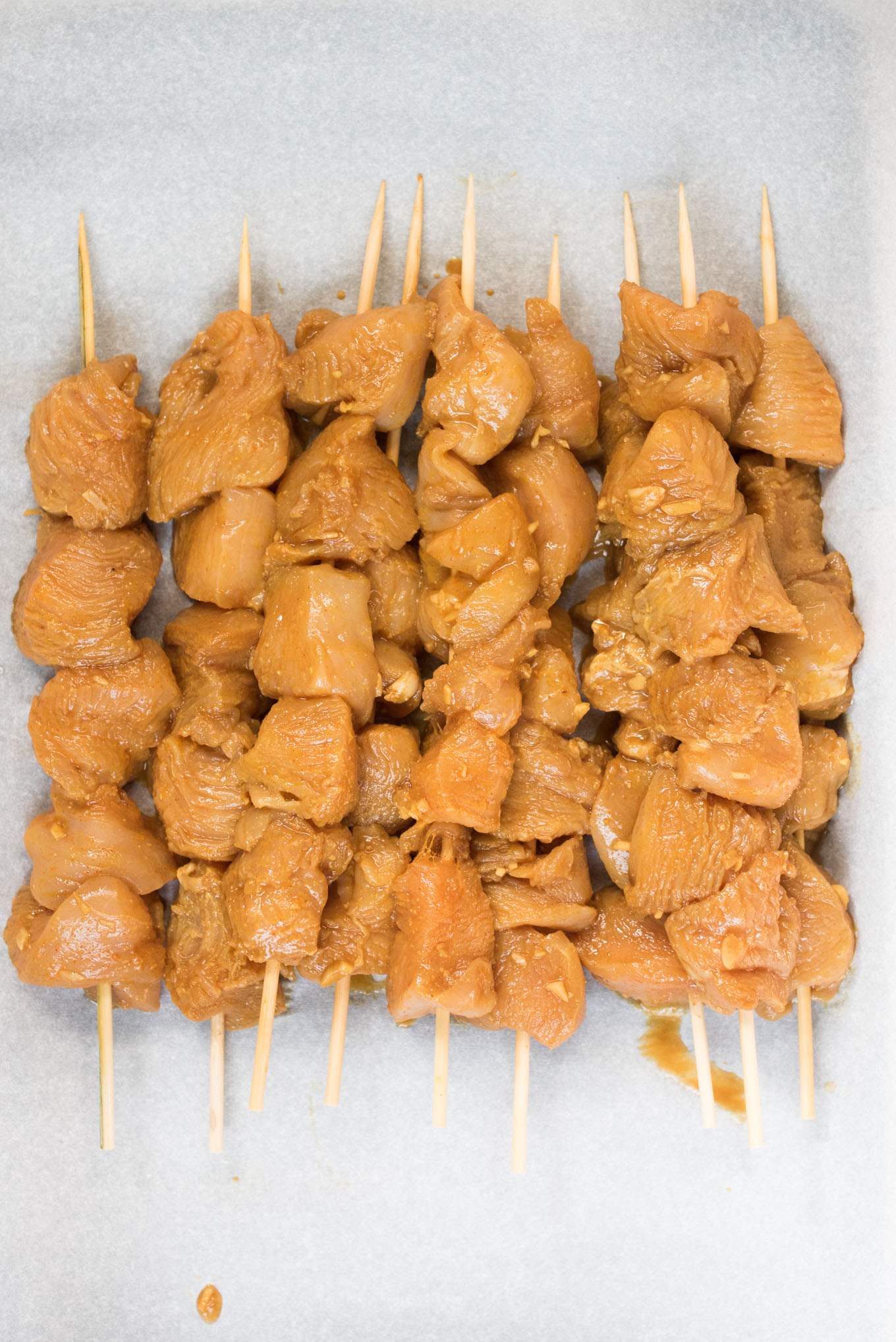 I also used PB2 peanut powder in the peanut sauce that is drizzled on top of the chicken satay.
The peanut powder is pretty versatile- you can use it on oatmeal, pancakes, mixed into baked goods or even salad dressings! Just reconstitute it with any liquid and it makes a great protein-packed staple!
Free of GMOs (genetically modified organisms), preservatives, artificial flavors or sweeteners, PB2 peanut butter powder is a great addition to your pantry.
This Honey Peanut Chicken Satay pairs fabulously with Asian slaw, roasted vegetables, noodles or rice. It would be great for a game day appetizer too!
Traditional Thai satay recipes called for lemon grass, fish sauce and/or coconut milk, but I made it more practical for families who might not have those items on hand and added the PB2 peanut butter powder instead!
Not to worry though, with spices, ginger and garlic there is no shortage of flavor!
Tips for making this recipe:
Soak your wooden skewers first, 30 minutes is plenty but longer is fine. I do this while I am prepping everything else.
Feel free to substitute chicken thighs if you prefer. The cooking time will increase a little.
For easy prep, use kitchen shears for cutting your chicken into bite size chunks.
If you are meal prepping, you can make the marinade for the chicken ahead of time or marinate the chicken up to 24 hours (minimum of 30 minutes).
The same ingredients from the peanut sauce go into the marinade so plan to make those at the same time.
Use an indoor grill pan if you do not have a barbecue grill.
I hope you enjoy this Chicken Satay as much as my family did!
PB2 powder can be found at grocery stores and other retailers such as Target, Walmart and Costco. Find a location near you  and follow PB2 on Instagram or Facebook.
Honey Peanut Chicken Satay
Author: Melanie F. | Nutritious Eats
Serves: 12
Ingredients
~2 lbs chicken breasts or thighs (cut into 1 inch pieces)
For the sauce:
¼ cup PB2 peanut butter powder
2½ tablespoon water
1 teaspoon soy sauce
½ teaspoon honey
½ tablespoon lime juice
½ teaspoon grated garlic
Marinade/Sauce
¼ cup low sodium soy sauce
1½ tablespoons honey
1 tablespoon sesame oil
2 tablespoons PB2 powder
2 teaspoons chili paste
2 tablespoons lime juice
1 tablespoon water
1 teaspoon coriander powder
½ teaspoon turmeric powder
½ teaspoon cumin
1 teaspoon grated ginger
2 cloves garlic, minced
Optional toppings- fresh chopped cilantro and chopped peanuts
Instructions
the marinade. Add all marinade ingredients to large bowl or gallon size plastic bag. Add chicken pieces and marinate for 30 minutes up to 24 hours.
Next, add all of the peanut sauce ingredients to a small bowl and whisk to combine. Set aside.
Thread pieces of chicken onto skewer- do not over crowd the stick (you can fit ~5 pieces per skewer).
Preheat indoor or outdoor grill to medium heat, drizzle or spay with a little oil.
Place satay skewers on grill or grill pan, cook for 4 minutes, flip and cook on the other side for an additional 3 to 4 minutes or until chicken is cooked through (due to the sugar in the marinade, you will get blackened marks on your chicken which is what you want!).
Remove chicken and place on a serving plate. If desired, top with chopped fresh cilantro and chopped peanuts. Serve with dipping sauce.
3.2.2925