Cheesy Chicken and Rice Skillet is an easy, one-pot, gluten-free meal full of rice, chicken, cheese and veggies, that the whole family will enjoy!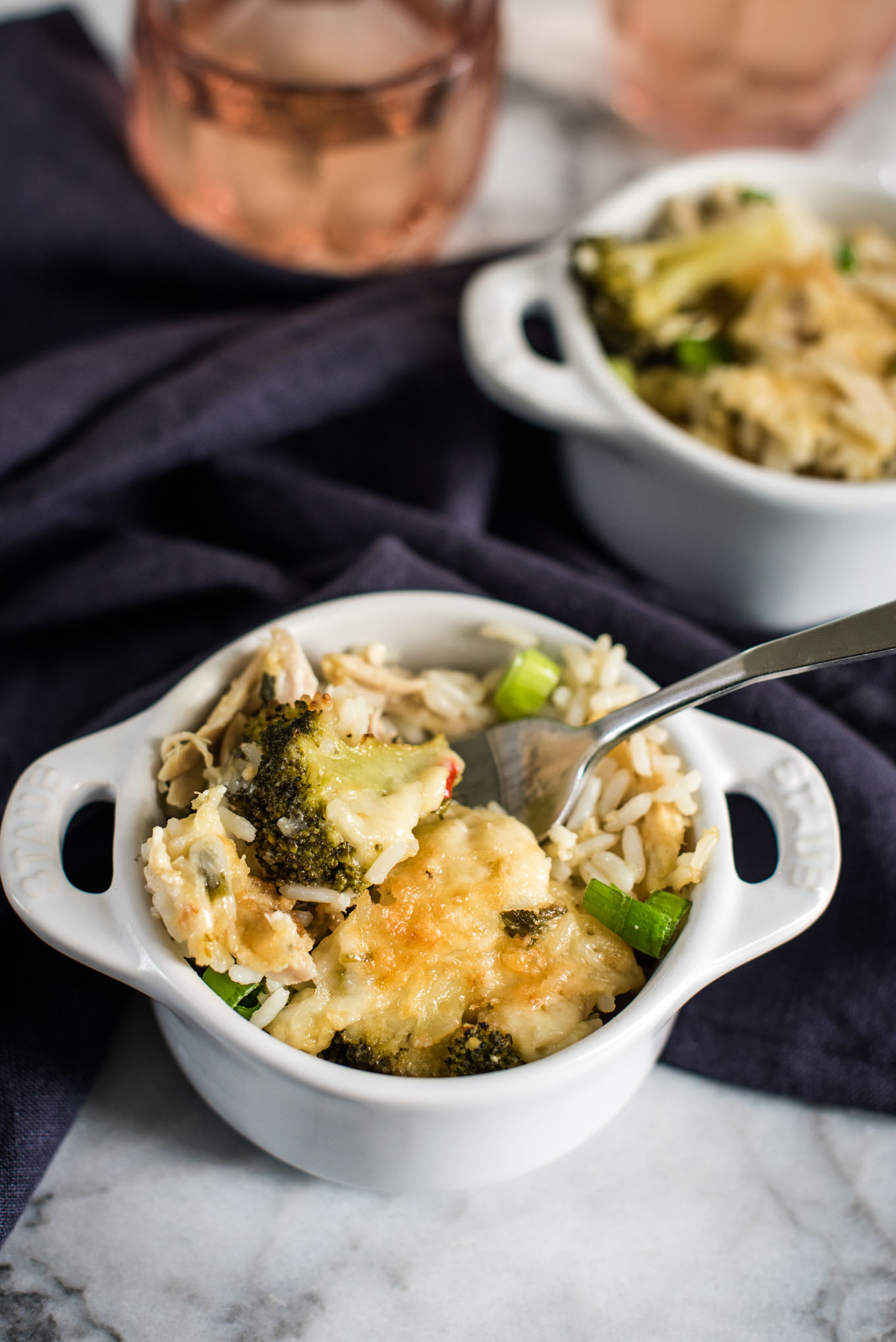 Disclosure: I was asked to participate in this campaign with Cabot Creamery as a member of the Healthy Aperture Blogger Network. I was compensated for my time.
Cheesy Chicken and Rice Skillet will definitely make it's way into your weeknight rotation! It's not easy finding meals that are healthy, easy to prepare and a hit with the whole family.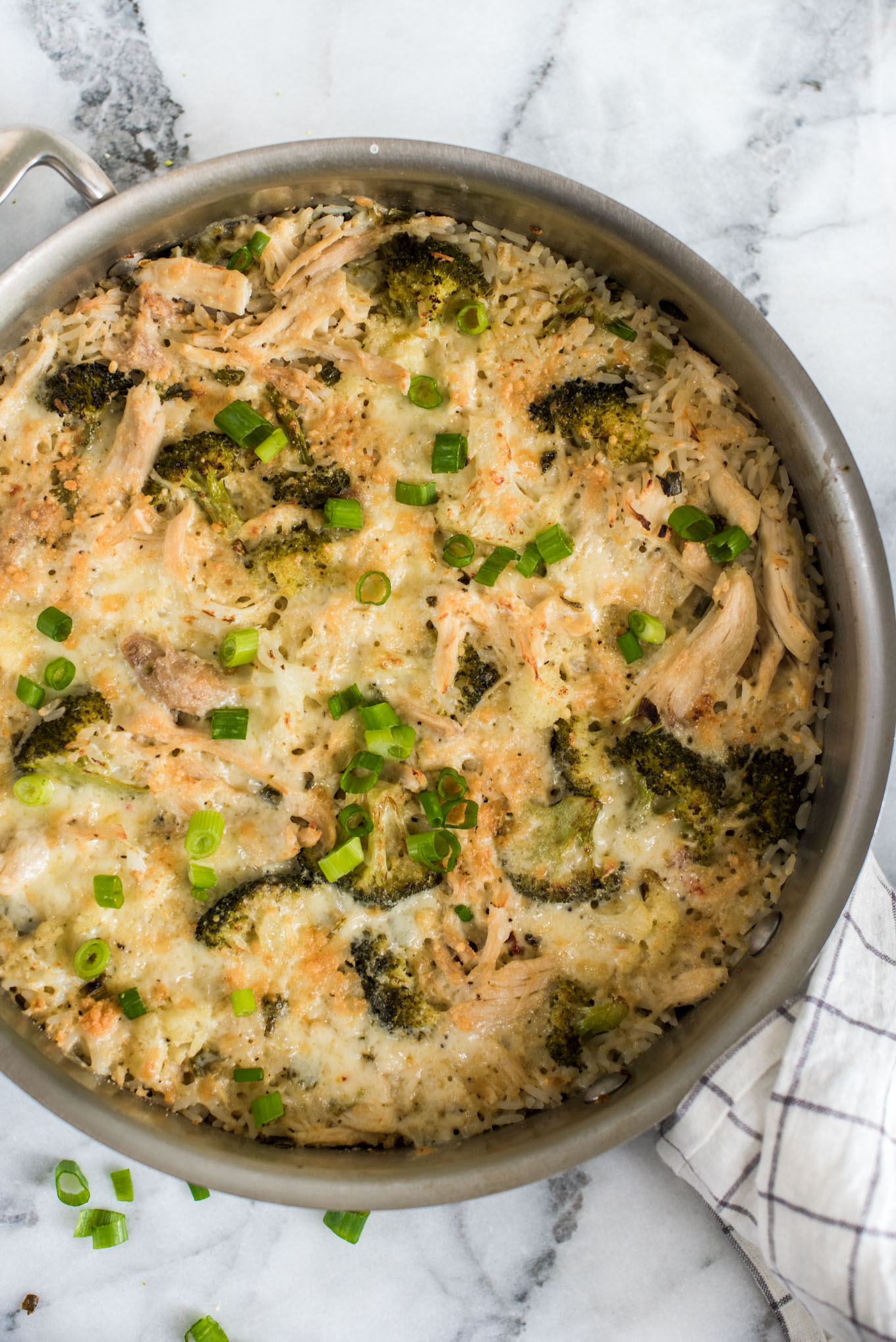 However, this Cheesy Chicken and Rice Skillet fits the bill AND it's a one-pan meal- my favorite! This dish packs several food groups into one pan- veggies, grains and protein!
I used Cabot Pepper Jack Cheese which is minimally processed with just milk, cheese making cultures and salt! It is mild enough for the kids, but also gives your dishes a little extra punch. Feel free to sub another cheese you like, such as Cabot Sharp Cheddar.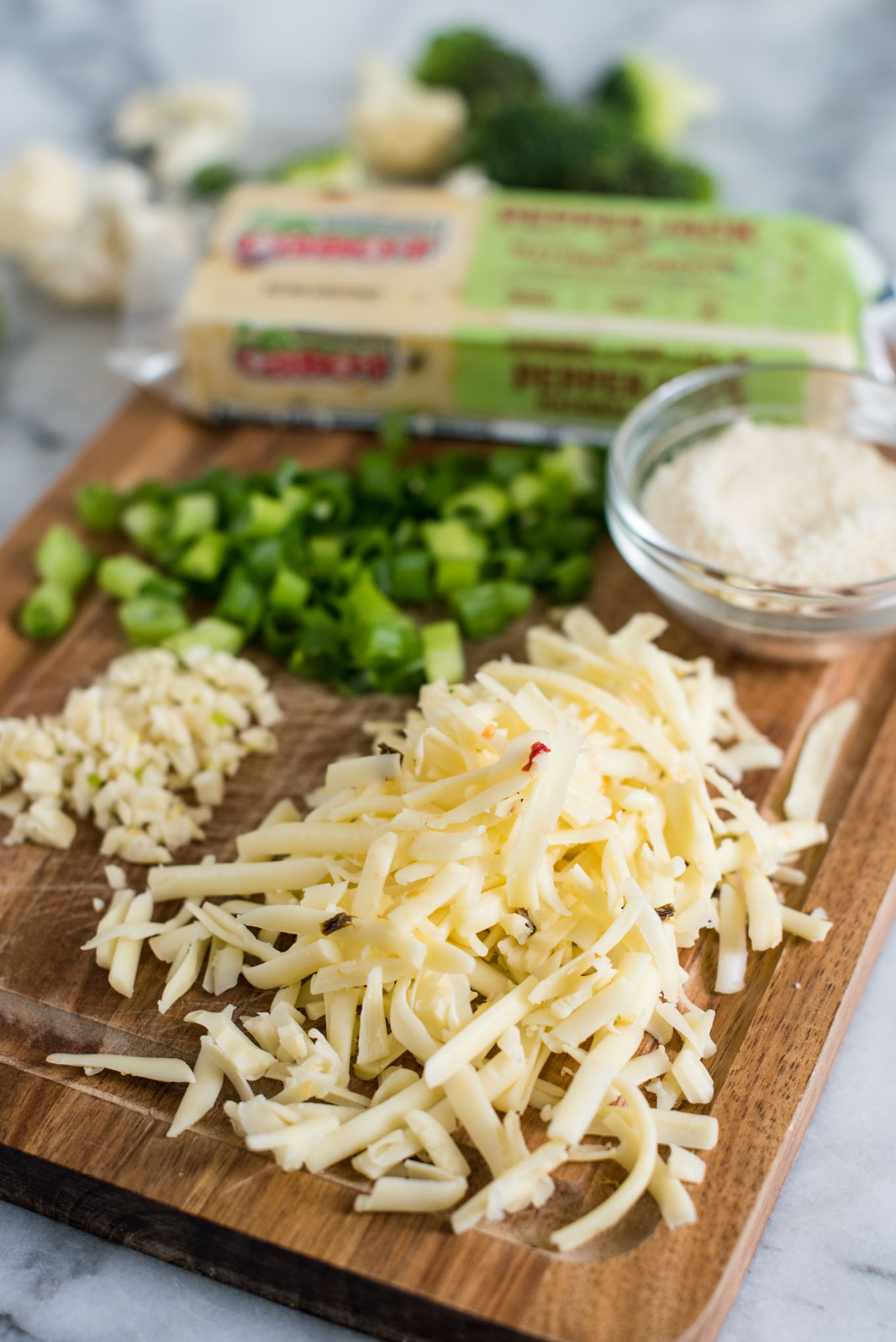 The good news about Cabot Cheddars is that everyone can enjoy them. They're naturally lactose-free and gluten-free, and offer a crowd-pleasing source of protein for any family meal. Cheese makes everything taste great!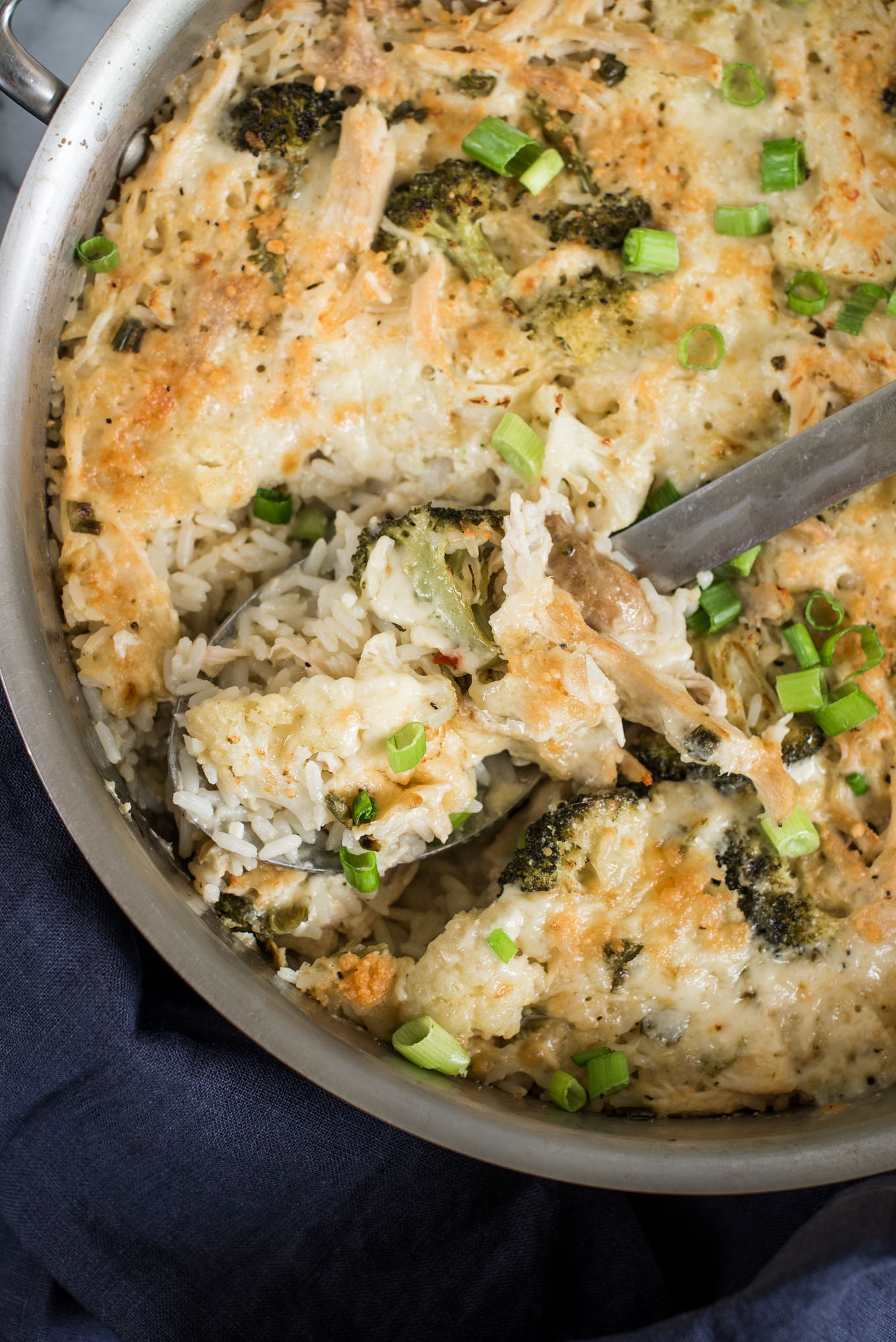 Adding broccoli and cauliflower in this Cheesy Chicken and Rice Skillet bumps up the nutrient content while adding extra fiber.
Of course if you have a super picky kid, you can easily work around the broccoli and cauliflower. However it might just get them to eat their veggies when paired with some delicious melted cheese!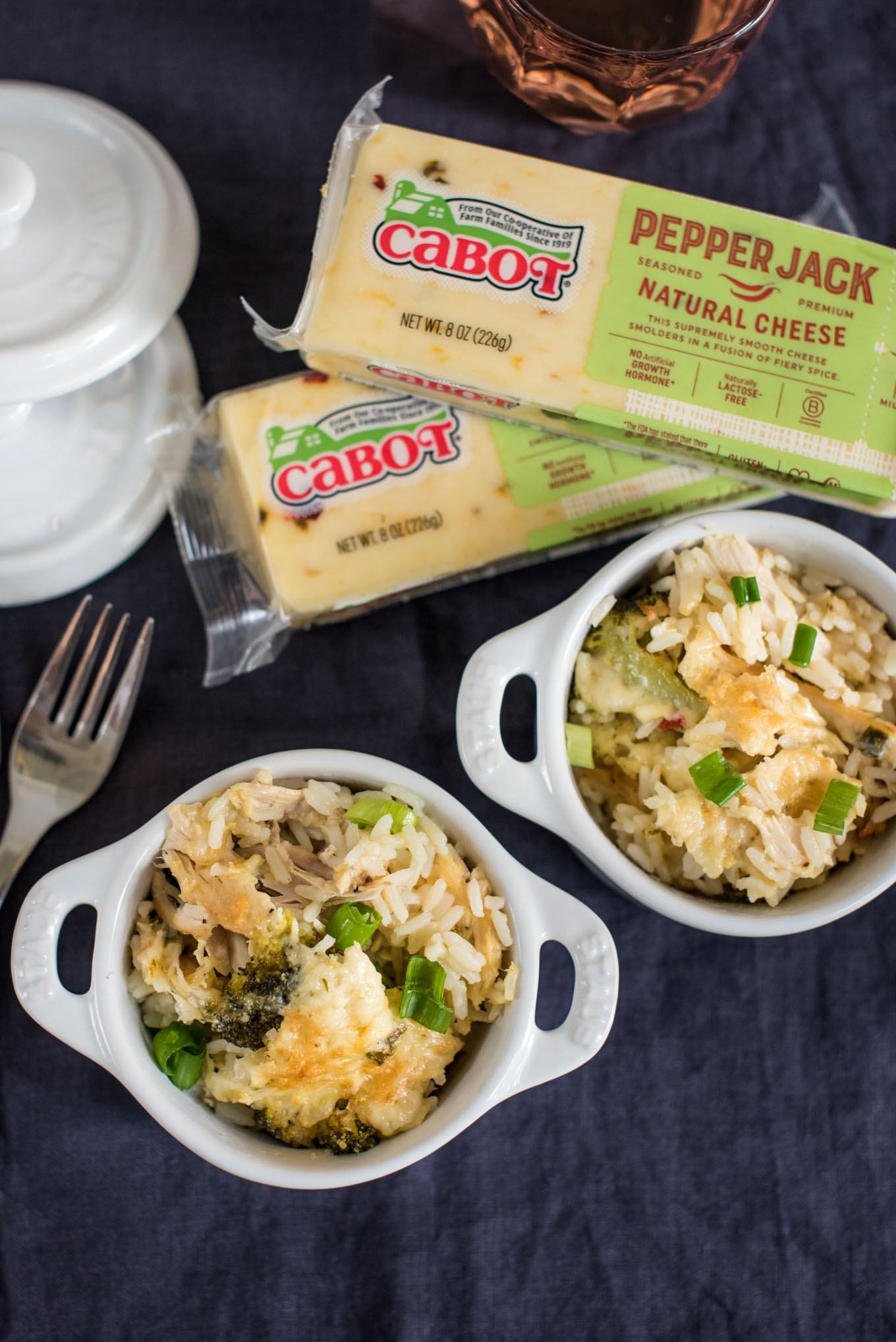 How to make prep this recipe with ease:
Look for the pre-prepped bags of veggies
Use a rotisserie chicken or pre-shredded chicken from the grocery store
Grate your cheese in advance
Measure out your ingredients before you get started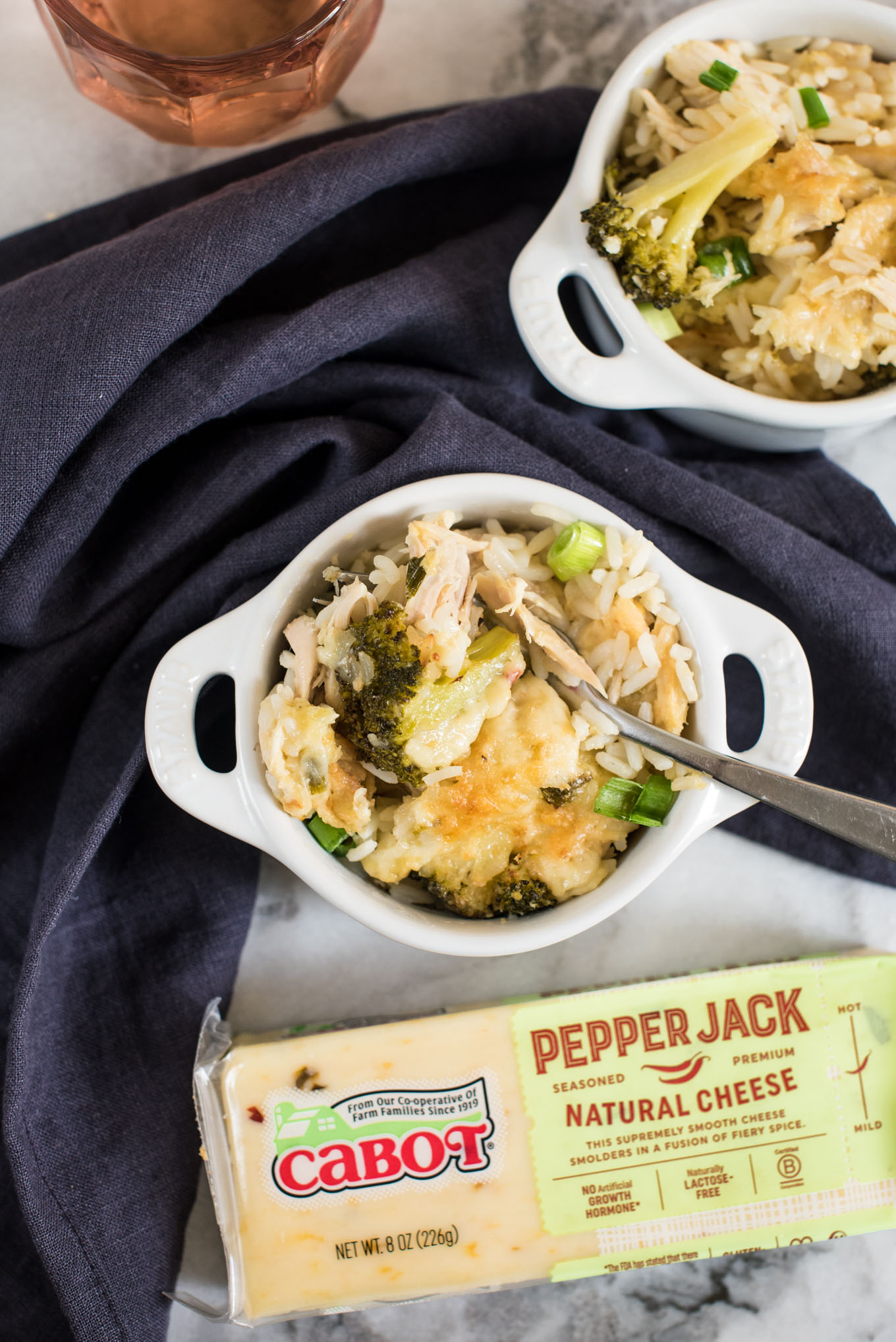 Items used in making this recipe:
A good skillet with a tight fitting lid as this dish will go from stove top to oven
Looking for other one pot meals? Check out these recipes:
As in many of my recipes, cheese likes to make an appearance!  For more recipe inspiration, follow Cabot Creamery on Facebook, Instagram, Pinterest or Twitter.
Cheesy Chicken and Rice Skillet with Pepper Jack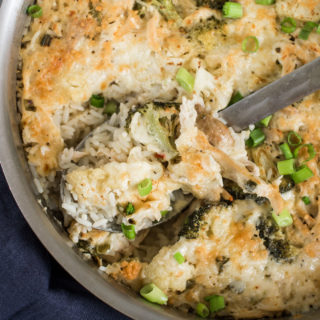 Author: Melanie F. | Nutritious Eats
Recipe type: Main Entree
Serves: 6
Ingredients
1 tablespoon butter
1 tablespoon olive oil
2 cloves garlic minced
3 tablespoons sliced green onions, divided
2¼ cup mixed broccoli and cauliflower florets
2 cup shredded chicken (rotisserie works great)
1 cup uncooked rice
2 cup organic chicken stock
½ cup 2% Greek yogurt
¾ teaspoon salt
¼ teaspoon pepper
1¼ cup shredded Cabot Pepper Jack cheese, divided
3 tablespoons Parmesan cheese, divided (good quality)
Instructions
Preheat oven to 425 degrees. Melt butter and olive oil in an oven-safe skillet over medium heat. Add garlic, green onion, broccoli and cauliflower and saute for 2 minutes. Next, stir in chicken and rice.
Add broth, then yogurt and stir well to combine, bring mixture to a simmer. Stir in 2 tablespoons of Parmesan Cheese, ¾ cup of the Pepper Jack cheese and the salt and pepper.
Place lid on the skillet and place in the oven for 20 minutes, until most of the liquid has been absorbed.
Carefully remove pan from oven. Switch oven from bake to broil. Remove lid and top with remaining tablespoon of Parmesan cheese and ½ cup Pepper Jack cheese. With lid off, place skillet back in the oven and broil for 2-3 minutes or until cheese has melted and is slightly browned on top. Keep an eye on it at this point. Sprinkle with remaining tablespoon of diced green onions and serve.
Notes
Serve with jalapeno hot sauce for the adults if desired.
Best served immediately otherwise rice dries out a bit.
3.2.2925